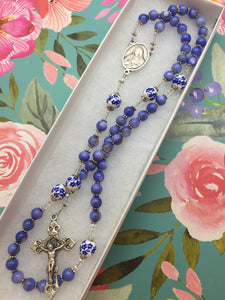 St Therese/Blessed Mother Rosary:
Very popular sky blue Rosary with Our Lady of Guadalupe/ Divine Mercy center. Pretty blue/white flower ceramic Our Father beads. Fleur-de-lis cross. Center and cross made in Italy. So beautiful!
-Dyed Sky Blue Shell Beads, 6mm
-Blue and White "Delft" Ceramic Beads
-Divine Mercy/Our Lady of Guadalupe Center, Made in Italy
-Fleur-de-Lis Crucifix, Made in Italy
-16" Length
Free Shipping in the Continental United States
Gift boxed.
Copyright 2017-2023 VictoryBead All rights reserved.