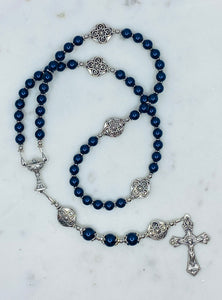 Stunning Deep Blue Crystal Pearl and Silver Holy Communion Rosary. So perfect and delicate for a First Holy Communion! All Handmade using the finest quality pearls on the market. Breathtaking! Perfect gift for someone special; this Rosary is made to last and is Heirloom quality.
-Finest Quality Blue 6mm Crystal Pearls for Ave Beads
-Silver Plated "Sacred Hosts" Our Father Beads
-Beautiful Accent Silver Plated Divider Beads and Hosts
-Holy Communion Chalice Center and Crucifix from Italy
Handmade in the USA
Free Shipping in the Continental United States
Gift boxed.
Copyright 2017-2023 VictoryBead All Rights Reserved.